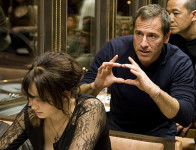 The incredibly pricey Amazon TV series from director David O. Russell is no more. The untitled TV show was produced by The Weinstein Company and was to star Robert De Niro and Julianne Moore, but in light of the recent Harvey Weinstein allegations and the suspension of Amazon Studios head Roy Price after harassment a harassment allegation, Amazon has decided not to move forward with the show. Russell, De Niro, and Moore released a joint statement saying that they've also decided the best option at this point is to scrap the series altogether, so it won't be going to another network:
"We support Amazon's decision as in light of recent news and out of respect for all those affected we have decided together that it is best to not move forward with this show."
The Oscar-nominated American Hustle and The Silver Linings Playbookfilmmaker's first foray into TV was announced in November 2016, but it hadn't yet even started production. THR says the drama was said to be worth about $160 million for two seasons, and Amazon had already spent $40 million before pulling the plug, with only a handful of scripts turned in.
However, another The Weinstein Company-produced TV series at Amazon has a very different fate. Mad Men creator Matthew Weiner's anthology drama series The Romanoffs will now be produced entirely by Amazon Studios, cutting ties with The Weinstein Company altogether. Production on that show is already underway, and in contrast to Russell's series, has been going more smoothly. At $75 million it's considerably cheaper, and four episodes of the show have already been shot. THR reports that Weiner expects the Weinstein name to be removed from the series entirely.
This news comes as The Weinstein Company exec and Harvey Weinstein's brother, Bob Weinstein, insists it's "business as usual" at the company as The Wall Street Journal reports the company is exploring a sale or shutdown. A number of future projects are somewhat in limbo, but this all pales in comparison to the pain and trauma experienced by the victims.