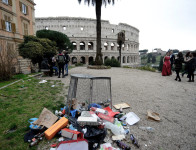 di Frank Bruni –
ROME — This city tells an ancient story.
It also tells a modern one.
Behold the Colosseum. The other day I did, and I was blown away, not by its link to the past but by its luster in the present. On previous trips to Rome and during the two years I lived here, I knew it as a gray and grimy relic. Now it's stripped of soot and the color of ivory, thanks to an elaborate cleanup.
But a few hundred yards away, in a hilltop park, there's badly cracked pavement, wildly unkempt grass and oodles of trash, because there's trash almost everywhere in Rome, whose officials keep promising — and failing — to get the problem under control. That's the first thing that Romans mention if you ask them about their city these days. It's also the second and third.
"A tragic situation," Massimiliano Tonelli told me. "No other country in Europe has a capital in this condition."
Tonelli doesn't just bemoan it. He, along with other Romans, chronicles it, on a sadly popular website, Roma Fa Schifo ("Rome Sucks"), that he helped to found. It posts pictures of such eyesores as defaced subway signs, Dumpsters that are disappearing under mountains of uncollected garbage and even, recently, a man in a kitschy gladiator costume taking a leak in public. Type the hashtag #degrado ("degradation") into Twitter and up comes a gallery of similar scenes.
They're not new. The website has been around for almost a decade. But the situation is arguably worse than usual and more demoralizing than ever, because Romans last year elected a young new mayor from a young new political party who pledged to turn things around. Almost 11 months later, she has done nothing of the kind.
On top of which, there's the shocking, mocking contrast of monuments that gleam for tourists while everyday Rome reeks for its residents. The contradiction constantly reminds Italians that "the public sector is inefficient and totally disorganized while the private sector functions better," Tonelli said.
A roughly $30 million donation from Tod's, the Italian shoemaker, is financing a sorely needed restoration of the Colosseum. The impressive scrubbing of the Spanish Steps, which was completed last year, reflected a $1.7 million investment by the jeweler Bulgari, which has a flagship store close by. Fendi forked over some $3 million for the rejuvenation of the Trevi Fountain. It glistens as it hadn't for decades.
And that's happy news, for the most part. An Italian government strapped for money is smartly tapping private philanthropy to protect its cultural heritage, which is a vital engine of its economy. And it hasn't let these companies stamp their names or logos prominently on centuries-old travertine.
But this new reliance on corporate munificence could set up a dynamic by which only the most famous landmarks get face-lifts, because they generate the publicity that donors want. Income inequality: the monumental version.
And the government's own impotence is brought into starker relief by what Tom Rankin, an architect in Rome, described as "a general context of blight around these sparkling monuments."
"People who have a stake in these things are really frustrated," he told me.
It's not just the trash. It's the profusion of unlicensed street vendors. The riot of untamed weeds. The erratic public transportation. The obstacle course of cars parked where they shouldn't be. The treacherous bulges and dips of unrepaired streets.
"Did anyone trip and break their leg?" Elizabeth Minchilli, a Roman tour guide and food writer, asked me when I mentioned that I'd been leading my siblings and their spouses around the city. "The streets are full of holes. Everybody you talk to these days has knee problems, ankle problems, hip problems."
She also asked if I'd noticed an explosion in the bird population, which she pinned on the garbage. "They have bird fights over Piazza Venezia," she said, adding that she'd seen, amid Rome's domes and cupolas, "a sea gull swooping down to attack a pigeon that was being attacked by a crow." She might have been describing a horror movie co-directed by Fellini and Hitchcock.
I did notice the birds but even more so the butts: cigarettes cast away and never swept up. I counted them to distract myself as I ran beside the bilious water of the Tiber, slaloming around broken glass and swatting away mosquitoes, which seem to be enjoying a boom of their own.
Later I climbed the Spanish Steps, freshly gleaming. From the top I could see the glory of Rome. I could also see how so many Italians — and plenty of other Westerners — feel that they live in some perverse shadow of affluence, and how anger and cynicism flower. There's a perch from which all is magnificent. There's another that's for the birds.