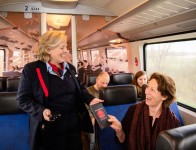 di Jon Stone –
Special book given out as gift to readers during National Book Week is accepted instead of ticket.
Dutch book lovers got free rail travel across their country's entire network this weekend as part of the Netherlands' annual book week celebrations.
Every year since 1932 the Netherlands has encouraged reading with Boekenweek – a celebration of literature marked with literary festivals and book signings across the country.
Traditionally, a well-known Dutch author writes a special novel – the "book week gift" or Boekenweekgeschenk – which is given out for free to people who buy books during the festivities or sign up to a library.
Nederlandse Spoorwegen (NS), the Dutch state railway company, has long been a sponsor of the annual festivities – and even organises book readings signings by top authors on its trains.
"It is good to see all those happily surprised faces of travellers," author Jan Siebelink said after boarding a train for the city of Utrecht to meet passengers and read his book.
"We are talking about everything, including their journey. A traveller just said he was on his way to Velp, my birthplace. Often there are also children and I naturally hope that they start reading. That's what we do it for."
Murat Isik, who wrote the annual bookweek essay, a companion to the novel, added: "How incredibly beautiful and dynamic to meet readers on the train. Unfortunately, this is also the end of Book Week. A week full of wonderful meetings and conversations."
This year the book week gift was given out by bookshops to anyone who spent €12.50 on Dutch-language books.
The state rail company, which has now been offering the annual free travel promotion for 18 years, said in a statement: "NS has a warm heart for reading, because reading is one of the favourite ways to spend time on the train."